Visiting & Open Times
Can I come and see your reproduction furniture, or do I have to buy on-line?
We do not have a traditional shop or showroom. Our aim is to pass on the savings we make in not having this facility, to you. All our reproduction furniture is in a warehouse, packed up and ready to send out. Our offices are not at the same place as our warehouse. We don't unfortunately have the facilities for on site visits.
---
When are you open?
As a website we never close, but as humans we do take some time away here and there. So, our phones are answered between 9:00 and 5:00 Monday to Friday, and e-mails and texts will be answered pretty much 24/7. We close on Bank Holidays but will try to answer messages as much as possible during that time.
Delivery Information
Delivery Charges
Our standard delivery charge within England & Wales is £63 per order. This is for one or more items delivered to one address and where possible to room of choice.
Delivery Areas

Our standard delivery service covers England & Wales. We also cover Scotland but it costs a little more. We can arrange delivery to the following Scottish postcodes:
AB*
DD*
DG*
EH*
FK*
G*
IV*
KA*
KY*
ML*
PA*
TD*
We regret we aren't able to deliver to Northern Ireland or Eire using our standard service. We can get quotes from independant carriers on your behalf though.
Beds & Mattresses
Is there a weight limit on your bed frames?
There is a combined weight limit of 490LBS / 35 Stone / 222KG for our double, king size and super king bed frames including the mattress. Damages to the bed due to weight over this renders our warranty invalid. If you think you might exceed this we recommend adding additional supports under the centre rails that extend to the floor.
Can I move my bed around once it is assembled?
Beds should always be dismantled before moving. Never attempt to drag it while fully assembled as this may cause damage to the feet, or in extreme cases distortion of the headboard or foot board. It is possible to position the bed during assembly. This is done by leaving the slats out, and with two people carefully taking the weight of the headboard and foot board at the same time. Ideally, it is best to position the headboard at the start of assembly and use this as the final position of the bed once assembly is complete. We regret we can't be responsible for damage caused to beds while being moved fully assembled.
---
Can I put the mattress straight on the slats?
We recommend using a bedbase (available from us) to improve your comfort, and to protect and prolong the lifetime of your mattress. Another alternative is to use a sheet of mdf (about 6mm) or better still pegboard between the slats and the mattress. If you decide to put the mattress straight on the slats we would always recommend a full mattress protector as the slats may mark the mattress. Details of our bedbases can be viewed by clicking here.
---
Can I fit my divan bed into your bed frame?
It isn't possible to fit a divan base and mattress into the bed frame because of the way the frame is designed. However, you can fit a bed base (available from us) to go between the slats and your own mattress. We would recommend this to extend the life of your mattress and for increased comfort.
---
What are the slats like on your beds?
Our bed slats are made of unplaned mahogany from substantial cuts of timber. They are not flexible, and are designed to provide a firm platform for either a mattress or a bedbase. With each bed we generally supply about twelve slats and two rails which run from the headboard to the footboard which support these underneath. The number of slats may vary from one design to another, but in all cases you get a very stong structure once the bed frame is assembled.
The slats measure about 5cm across the top and have gaps between them of about 12cm.
Finishes & Care
What is the colour of your painted furniture?
Our mahogany white furniture is finished in a plain white.

---
What is the colour of your mahogany furniture?
Our mahogany furniture comes approximately in one finish/colour. This is a medium/dark honey mahogany finish. The appearance of the photographs on the web site may vary in colour due to the different conditions in which the furniture was photographed. You will also get quite a variation in appearance of the shade of colour depending on the type of monitor you use for your PC. A TFT or laptop will generally display the colours as paler than a standard CRT monitor. It is possible for you to stain down the colour if it is too light if done with care. Dark antique waxes are worth investigating for this before going down to the DIY store.
---
How do I look after my reproduction mahogany furniture?
Your furniture should last for years with a light polish and occasional dust. Our furniture is sealed, so you should only need to to give it minimal attention as time goes by. We always recommend keeping it away from direct heat sources such as fires and radiators which could cause distortion of drawers, or in severe cases warping of tops. The furniture is intended to have a slightly aged appearance, and may have small imperfections in it. This is not a fault, and simply adds character and patina to a hand made piece of furniture. The furniture is not machine made and will lack the slick refinement of modern mass produced furniture both in fit and finish. We believe it is this that makes it so special. The essential thing to remember, is that it is all real timber, and with reasonable TLC the furniture will last a lifetime.
---
Is your furniture solid wood or veneered?
Our furniture is mainly solid wood (mahogany), although in a limited number of pieces where there is a risk of warping on flat surfaces, veneered timber may be used. All the timbers are selected and kiln dried prior to manufacture by hand. Each piece will vary slightly but this adds to the unique quality of it.
How To
Fix a headboard to a wall
There are various ways to fix a headboard to a wall. For regular maintainence where redecorating of the walls around and behind the panel are required, a split batten is the best way to go. This is something that is best taken on by someone with good DIY skills. The simple way is to use T shaped brackets to keep the headboard in place. The weight of it is carried on the floor so the wall is only being used to steady it.
The image below shows one of our headboards using T shaped brackets: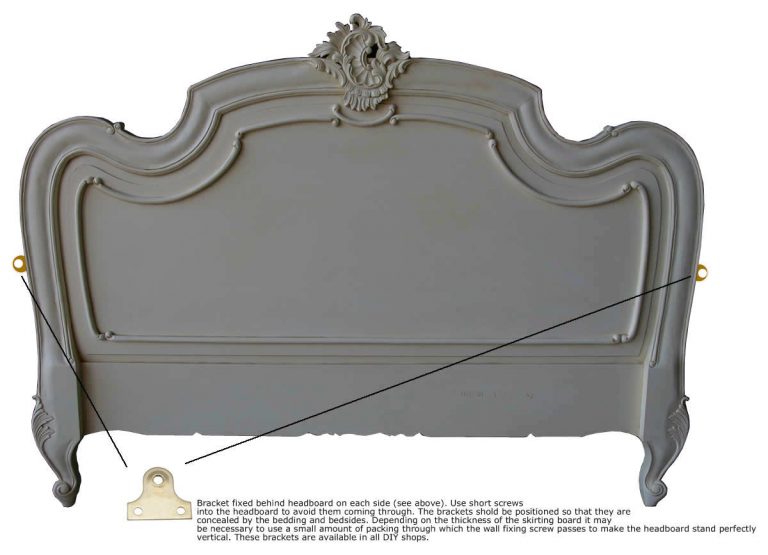 Is your hardwood furniture rainforest mahogany?
Definately not! Our mahogany furniture is made from timber grown in licenced forests / plantations in Java. For some background information on timber production in Java we recommend having a look at the work of
Tropical Rainforest Trust
(TFT) who are actively promoting responsible and sustainable forestry management in various countries around the world.
From the Tropical Rainforest Trust (Earthworm) website an article covers a five month study into the possibility of sourcing mahogany from small farming communities in Central Java, funded by one key Buying Member. The study found community forests to be a significant source of mahogany, and the five districts included in this study can sustainably produce commercially significant volumes of mahogany annually.
Mahogany trees (Swietenia macrophylla & Swietenia mahogani) originate in the Neotropics, but, like teak, have been cultivated in Central Java for hundreds of years. They are part of a highly complex community agro-forestry ecosystem that dominates the Central Java landscape.
This agroforestry ecosystem provides important environmental services (protecting water quality and quantity, reducing soil erosion and the risk of landslides, providing a rich living gene bank of traditional crops), as well as vital social services where communities depend on food, resources and money generated by the agroforests.
Farmers grow mahogany as a long-term investment. Currently, the main threat to mahogany sustainability in the region is that farmers perceive the market to be inadequate and are switching to the faster-growing Albizia tree (Paraserientes falcataria).
For more information on TFT visit their website at www.tropicalforesttrust.com
All our Indonesian made hardwood furniture is sent to us with validated FLEGT certificates. For more information on this valuable initiative visit the FLEGT website at www.flegt.org

Is Mango Wood Sustainable?
Our mango wood (mangifera indica) furniture is from northern India. Mango is a hardwood with dense grains, so it is very durable. It is relatively easy to work with, requiring no special tools. Mango wood is the by-product of an already thriving industry: Mango fruit. Mango trees mature quickly; reaching between 50 and 60 feet in around 15 years. Once the trees get too tall to easily harvest the fruit or stop bearing fruit altogether, they are harvested for timber and a new generation of trees is planted.
Harvesting wood that was previously burnt or left to break down naturally not only provides extra income to mango farmers, but provides furniture manufacturers with a source of good quality timber that is highly sustainable.